Archive for July, 2008
May take just an hour to get something sorted out technically, but could take a few weeks before you work out all the details and iron out the bugs. It's been months since the last release and I wanted to let users know that I am still working on FireBible and haven't abandoned the project. I'm still working out the details, but I think I'm pretty close to a stopping point.
Here is a preview of the upcoming FireBible version, which will add support for General Books, Daily Devotionals, Dictionaries and maybe Commentaries too. This version will also work with the upcoming JSword 1.0.8 release, the existing version will only work with JSword 1.0.7.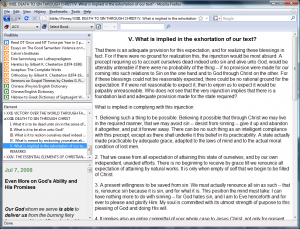 I get a good amount of feedback from fellow Bible software developers on sword/jsword-devel at Crosswire but not much from general users, so if you use FireBible and have some suggestions, I'd love to hear from you. See the About page for contact details.
Around 8 years ago, I got my first license, for motorcycles. Everything looked kosher until I noticed my name incorrectly spelt as Brain. I decided to live with it and have used it as proof of age and proof of residence several times, nobody seems to notice the mistake.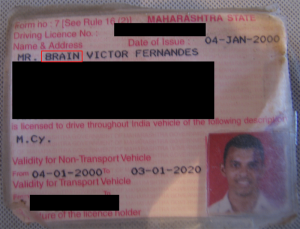 So when I started driving lessons, I made sure my name was correctly spelt on the learners license I was issued at the beginning. On the day I completed my driving test, the driving school filled out additional forms and I checked the spelling, again. I asked if I needed a new photo and they said it wasn't necessary, all details would be taken from the learners license, including some biometric details and my mug shot. So I didn't bother highlighting the problem in my older motorcycle license. My mistake. All details were copied, except the name. Hooray! So, I'm stuck with this for another twelve years… Brain Victor Fernandes. Cool beans when you're eighteen, irritating when you're twenty six.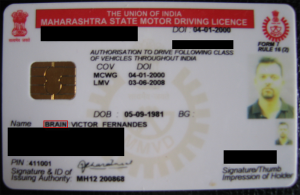 I can get this fixed, of course, but I'd like to know how much longer this will continue to be accepted everywhere. Hey, remember to check back in twelve years for the results!
A few months ago, I updated DataFox to work with Firefox 3. It was more than just updating the compatible version numbers, I had some trouble with password management, tooltips and some other stuff I cannot recall right now. I managed to do this in time to claim an AMO T-Shirt which arrived a month ago. I like the way it says Add-ons Development Team on the back

So here are a couple of photos of me being awesome. My face is not included because when I sent an un-cropped version of the first photo to my friend, his monitor exploded! Guess it is just too awesome for most hardware, sorry. True story.